William Wilson Pioneer Cemetery Restoration and Promotion Plan (Client: Town of Midland)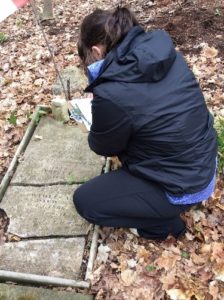 The William Wilson Pioneer Cemetery is a rural cemetery located along an unopened part of the Penetanguishene Road in the Town of Midland. The cemetery is designated under the Ontario Heritage Act (By-law 2009-85) as an important cultural resource. It is significant as one of Huronia's first European cemeteries and for its ties to the area's military history. A ground-penetrating radar (GPR) survey completed in 2012 identified 24 possible interments, however only one monument remains visible.
ARA completed a Restoration and Promotion Plan which included a field survey, a history of the property, and a summary of previous archaeological and GPR reports. The plan included recommendations for comprehensive archaeological assessment of the cemetery and adjacent property in advance of improvements through fencing and/or tree stump removal. ARA's Conservation Technician presented a conservation strategy to repair and preserve the remaining headstone. Interestingly, pH testing and microscope analysis demonstrated that a fragment of stone near the extant monument was likely part of a second headstone.
Read the information panels used for the Public Information Centre, William Wilson Pioneer Cemetery Restoration and Promotion Plan: William Wilson Pioneer Cemetery Project
Weston Heritage Conservation District Study (Client: Weston Heritage Conservation District Board)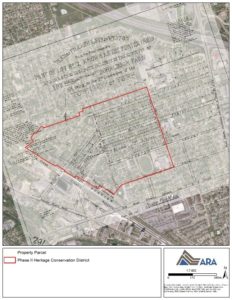 ARA worked with the Weston Heritage Conservation District Board on the Weston Heritage Conservation District Phase II. The study area contained approximately 549 houses. ARA's scope of work included three elements: completing a history of the area; creating an illustrated timeline; and conducting a Built Form and Landscape Survey for each property.  The work was conducted as per the City of Toronto's Heritage Conservation Districts in Toronto: Procedures, Policies and Terms of Reference (2012). Community involvement was a key element of this project. Volunteers were engaged to document properties. ARA assisted with management of the volunteers by producing a recruitment brochure and by presenting at both the Public Information Centre and at a Research/Architectural-Styles Workshop. ARA also reached out to classes at Conestoga College and the Willowbank School of Restoration Arts. Students were trained to document properties and conducted a joint site visit during a research day in the community.
Read about the Weston Heritage Conservation District here: Weston Heritage Conservation District